OMCA Social Media Marketing Associate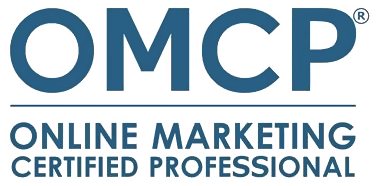 Become a Social Media Marketer
When you engage consumers where they are and speak their language, you'll connect with them on a deeper level, which is why so many companies are investing in social media marketing. In this 100% online course, you will learn the concepts and skills required to build, deploy and manage social marketing campaigns from start to finish. This course also prepares you to take and pass the Online Marketing Certified Associate (OMCA®) exam. Enrollment includes a voucher to cover the exam fee.
Job Outlook for Social Media Marketing Associate
The US Bureau of Labor Statistics (BLS) includes social media marketers in the broader category of Advertising, Promotions, and Marketing Managers, for which it forecasts 6% growth between now and 2029.
According to PayScale.com, social media marketing specialists earn $48,539 per year, on average.
WHAT ARE SOME DUTIES OF A SOCIAL MEDIA MARKETING ASSOCIATE?
Social media marketing associates create and manage social marketing campaigns that reach people on the go. They are responsible for developing strategies to increase traffic through various social media channels including Facebook, Twitter, Pinterest, Instagram, LinkedIn and YouTube. They oversee the creation of written and visual messages that encourage customer growth and retention.
WHAT TITLES ARE ASSOCIATED WITH SOCIAL MEDIA MARKETING JOBS?
By the time you complete this course, you'll be fully prepared to begin a career as a social media marketing focused digital marketer. You will have access to multiple disciplines, where some common titles include:
Social Media Manager
Social Media Specialist
Social Media Content Creator
Social Media Marketing Assistant
CAN SOCIAL MEDIA MARKETING ASSOCIATES WORK REMOTELY?
Because their work combines Internet-connected tools with specialized skills, many social media associates work remotely as employees, independent contractors, or consultants. ZipRecruiter.com reports that email specialists commonly earn between $34-89,000 working remotely.
Learn OMCA® Digital Marketing Foundations
Create a social media strategy and understand paid, earned and owned social media
Learn effective social sharing techniques
Blog for business and find and communicate with influencers
Develop online reputation management skills
Understand how to evaluate social media measurements and analytics
Prepare yourself for the Online Marketing Certified Associate (OMCA®) exam, administered by the Online Marketing Certified Professionals (OMCP®) organization
You should have basic computer skills and a good grasp of the English language.
INTRODUCTION TO ONLINE MARKETING
Discover the benefits of online marketing for desktop and mobile devices. Discuss how to identify your target audience, send a message that efficiently conveys your message and analyze conversions.
DIGITAL MARKETING FOUNDATIONS
Begin learning about search engine optimization and how it affects social media and content marketing.
CONVERSION OPTIMIZATION
Learn how to turn visitors into customers by covering conversion optimization foundations. You'll also understand web analytics, PPC methods and mobile and email marketing best practices.
INTRODUCTION TO SOCIAL MEDIA MARKETING
Discuss the value of social media and how to create a valuable social media strategy. Understand the difference between paid, earned and owned social media and why they're all important.
SOCIAL SHARING
Understand social sharing, including blogging for business, and how to find and communicate with influencers. Discover the importance of video marketing and how to incorporate video clips into your social media sharing.
SOCIAL MEDIA CHANNELS
Complete the course by learning about how to best market your material through various social media channels including Facebook, Twitter, Pinterest, Instagram, LinkedIn and YouTube.
Instructor
Avinash Kaushik
Avinash Kaushik is Google's Digital Marketing Evangelist and the co-founder of Market Motive. Through his blog and bestselling books "Web Analytics 2.0 Prime" and "Web Analytics: An Hour A Day," Kaushik is recognized as an authoritative voice on leveraging data. He has brought his insights to Unilever, Dell, Time Warner, Vanguard, Porsche and IBM. He has delivered keynotes at Search Engine Strategies, Ad-Tech, Monaco Media Forum, iCitizen, JMP Innovators Summit, Web 2.0 and The Art of Marketing. Kaushik has lectured at Stanford University, the University of Virginia, UC Los Angeles and the University of Utah. He received the 2009 Statistical Advocate of the Year award from the American Statistical Association, and the 2011 Most Influential Industry Contributor award from the Web Analytics Association.
Bryan Eisenberg
Bryan Eisenberg is the co-author of "Waiting For Your Cat to Bark?" "Call to Action," and "Always Be Testing," which have all been on the Wall Street Journal, Business Week, USA Today and New York Times bestseller lists. Eisenberg has been the keynote speaker for Search Engine Strategies, Direct Marketing Association, Webcom and the Canadian Marketing Association, amongst others. He serves as an advisory board member of Search Engine Strategies, the eMetrics Marketing Optimization Summit and several venture capital-backed startup companies.