Payroll Practice and Management with Microsoft Excel 2019 (Voucher Included)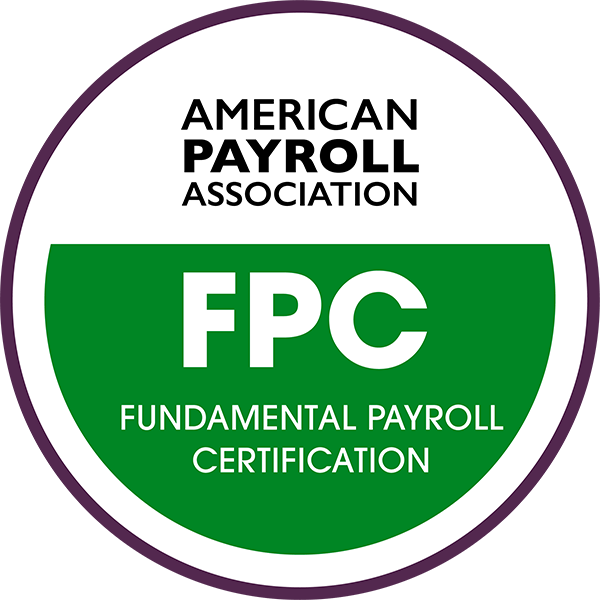 Become a Payroll Practice Manager with Excel
Payroll professionals must navigate financial regulations and tax laws in order to protect their organizations from exposure to violations and expense. Microsoft Excel is among the most popular tools payroll professionals use to organize and manage their payroll systems. This 100% online course provides extensive coverage of both payroll management and the use of Excel in the professional setting. Upon successful completion, you will be prepared to take and pass the Fundamental Payroll Certification (FPC) and the Microsoft Office Specialist (MOS) Expert certification exam for Microsoft Excel exams. Enrollment includes optional vouchers to cover exam fees.
Become a Payroll Practice Manager with Excel
According to the US Bureau of Labor Statistics (BLS), demand for human resource managers, including payroll managers, is expected to grow by 6% between now and 2029. This is faster than expected growth for all jobs. The growth is driven by increasing levels of regulation that make it crucial for organizations to follow employment laws.
PayScale.com reports that payroll managers earn $68,751 per year, on average. Salaries for experienced payroll managers range between $52-98,000, with an average of $71,766 per year.
WHAT DOES PAYROLL PRACTICE AND MANAGEMENT INVOLVE?
Payroll practice and management involves identifying laws and regulations that impact an organization and ensuring the organization's compliance. Payroll managers oversee the forms and calendars that determine an organization's schedule for withholding, depositing and reporting payroll taxes. They manage payroll systems, including technology and business processes and oversee payroll policies.
HOW DOES EXCEL RELATE TO PAYROLL PRACTICE AND MANAGEMENT?
Microsoft Excel is among the most popular software applications used for payroll-related tasks and processes. Payroll managers use its spreadsheet format, rows, columns, tables and sheets to organize payroll schedules, employee records, tax withholding and payment documents, deductions and other payroll-related items.
IS PAYROLL PRACTICE AND MANAGEMENT A GOOD CHOICE FOR A REMOTE OR WORK FROM HOME (WFH) CAREER?
Because payroll software such as Microsoft Excel can exchange data over the Internet, payroll managers can work remotely or from home and many do. Ziprecruiter.com reports that payroll managers commonly earn between $39-120,000 per year working remotely.
Identify various laws and regulations that affect employers in their payroll operations
Explain the use of the forms required to withhold, deposit, and report federal income taxes
Recognize dates and regulations to ensure payroll compliance and reporting
Understand the payroll process and supporting systems and administration
Correctly apply payroll policies and procedures of a payroll department
Be able to process payroll from start to finish (payroll project)
To create, modify, and manage Excel workbooks
To use formulas, functions and work with tables
To use conditional formatting and styles
To create pivot tables and charts
To import and export data
Be prepared to pass the FPC exam and become certified in the fundamentals of payroll.
Become a certified Microsoft Office Specialist (MOS) Expert in Excel
To enroll in this course, you should be proficient in keyboarding, have a basic understanding of a word-processing computer program, and be comfortable using a personal computer. You should also be familiar with operating Windows Office software and have a command of English grammar and punctuation. No payroll or office work experience is required.
Microsoft Excel 2019 Certification Training
Introduction to Microsoft Excel
Creating a Microsoft Excel Workbook 
The Ribbon 
The Backstage View (The File Menu) 
Entering Data in Microsoft Excel Worksheets 
Formatting Microsoft Excel Worksheets 
Using Formulas in Microsoft Excel 
Working with Rows and Columns 
Editing Worksheets 
Finalizing Microsoft Excel Worksheets 
Introduction to Microsoft Excel 2019 Exam 
Intermediate Microsoft Excel
Advanced Formulas 
Working with Lists 
Working with Illustrations 
Visualizing Your Data 
Working with Tables Advanced Formatting 
 Intermediate Microsoft Excel Exam 
Advanced Microsoft Excel
Using Pivot Tables 
Auditing Worksheets 
Working with Others 
Recording and Using Macros 
Payroll Practice and Management
Introduction to Payroll
Determining Worker Status
The Fair Labor Standards Act (FLSA)
Federal Employment Taxes
Payroll Forms
Fringe Benefits – Tax-Preferred and Other Related Health Benefits
Fringe Benefits – Deferred Comp, Retirement Plans, and Stock Options
Other Employee Benefits
Calculating Gross Wages
Calculating Gross Pay – Additional Topics
Paycheck Calculation – Taxes
Paycheck Calculation – Voluntary and Involuntary Deductions
Gross to Net Paycheck Calculation
Compliance – Laws and Reporting
Global Payroll
Payroll Process and Systems, and Audits
Paying the Employee
Payroll Administration and Management
Basic Accounting
Exploring Payroll Careers
Exam Preparation
Payroll Project
Instructor
Tracy Berry
Tracy Berry has been a senior graphic designer/programmer, instructor, and consultant since 1993 and has developed hundreds of logos, marketing materials, websites, and multimedia solutions for customers worldwide. She was also involved in several large corporate software rollouts. She has helped many organizations optimize and streamline data solutions. She teaches both onsite and online courses and has her CTT (Certified Technical Trainer) certification. Tracy specializes in teaching graphics, desktop publishing, web design, and reporting/productivity applications.
Helene K. Liatsos
Helene K. Liatsos is a business advisor and QuickBooks Certified Advisor with more than 25 years of experience. She consults for a range of companies, from travel agencies to startups. Her company, Home Office Management Experts, was awarded the 2004 Home-Based Business of the Year by the U.S. Small Business Administration. Helene holds a Bachelor of Arts from Fairleigh Dickinson University.