CompTIA Cloud Essentials+
This technology- focused online course is approved by the TechCred Program funding and will help you upskill and earn a credential in only six months.
TechCred Program funding allows Ohio employers looking to fill their open technology-focused roles with skilled candidates. Additionally, the program is designed to enable employers to offer current and future employees the opportunity to learn new skills while on the job by funding their learning.
Become part of a stronger workforce with the skills needed to propel your career.

TechCred | Ohio.gov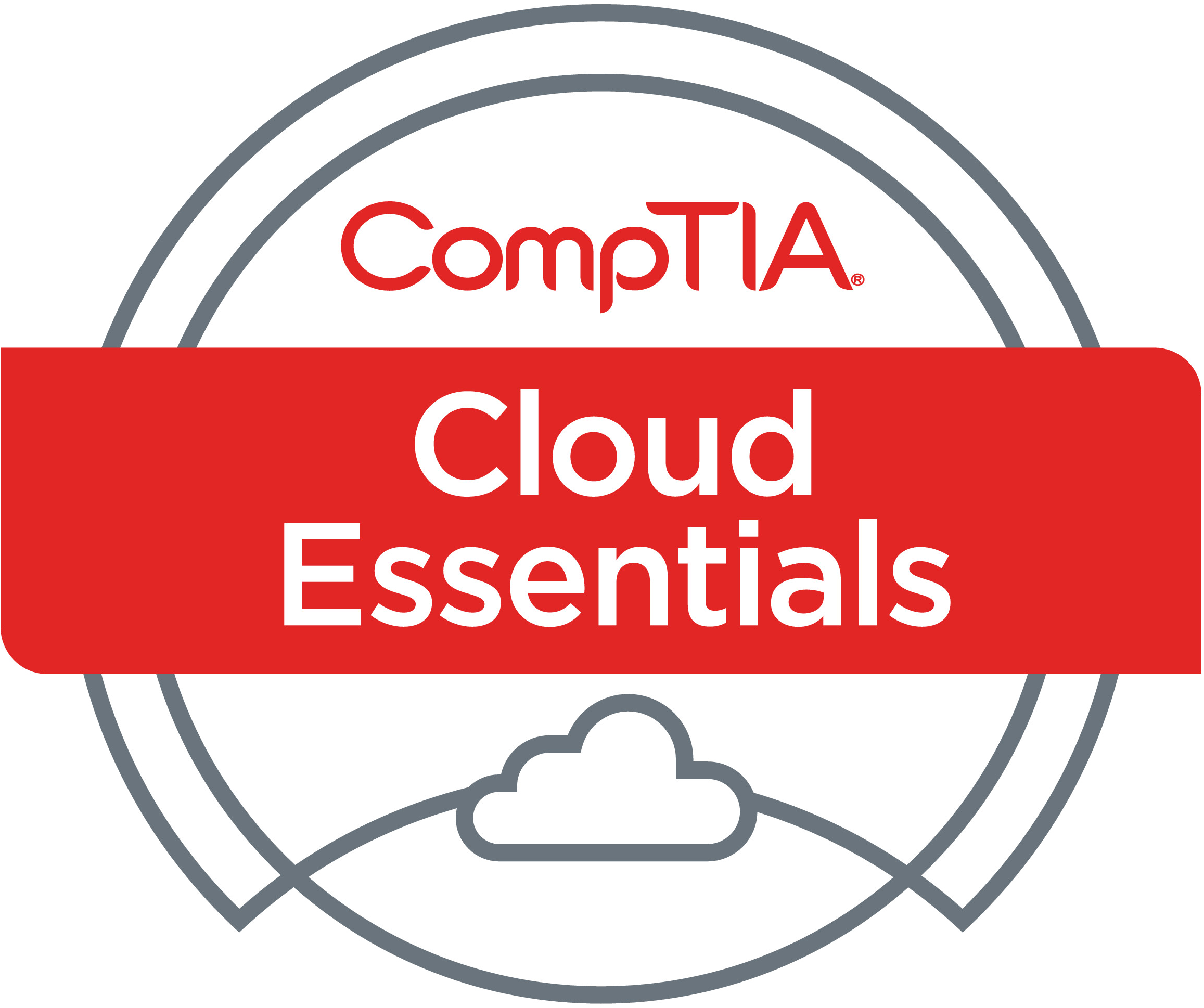 Become CompTIA Cloud Essentials+ Certified
Cloud computing has become the foundation of our app-driven, data-centered society. This trend has only grown after the global pandemic and a crisis-fueled year in 2020. The cloud provides organizations and institutions with a solid infrastructure from which to manage their information technology operations. This has created a significant demand for professionals who know how to use, manage and secure cloud computing operations. In this 100% online course you will learn core cloud computing concepts and practices. Upon successful completion, you will be prepared to pass the CompTIA Cloud Essentials+ certification, one of the world's leading cloud certifications. Enrollment includes an optional voucher to cover exam fees. This course is open enrollment. You can enroll and begin any time.
Job Outlook for Cloud Computing Professionals
The US Bureau of Labor Statistics (BLS) forecasts a 4% growth in demand for Network and Computer Systems Administrators between now and 2029. The BLS notes that emerging technologies such as cloud computing are expected to experience much stronger growth in demand.
According to PayScale.com, CompTIA Cloud Essentials+ certified professionals earn $67,877 per year in the US, on average. Salaries range from around $50,000 per year for Information Technology Specialists to over $100,000 per year for Senior Systems Engineers. Your compensation will depend on many factors, such as your skills, experience and location.
IS THE COMPTIA CLOUD ESSENTIALS+ A VALUABLE CERTIFICATION?
The Computing Technology Industry Association (CompTIA) is a leading voice and advocate in the Information Technology (IT) industry. Its certifications are widely valued and respected. CompTIA notes that the Cloud Essentials+ certification is the only globally recognized, vendor-neutral certification that integrates business principles with fundamental cloud concepts.
WHAT JOBS ARE ASSOCIATED WITH THE CLOUD ESSENTIALS+ CERTIFICATION?
CompTIA reports that jobs held by Cloud Essentials+-certified professionals often blend IT knowledge with activities in the business domain, including:
Business Development staff
Technical Sales Specialist
Business Analyst
IS CLOUD COMPUTING A GOOD CAREER CHOICE FOR THE FUTURE?
The innovations driving cloud computing - AI, the Internet of Things, gaming and many more - are expected to thrive in the coming years. Experts expect cloud systems and solutions to grow in both size and sophistication for the foreseeable future. Now is a great time to build skills for a future that will value the combination of IT and business expertise.
Interpret cloud concepts and terminology
Analyze the relationship between businesses and cloud technologies
Discern cloud management and technical operations
Review governance, compliance, security, and risk factors in cloud technologies
Gain confidence in utilizing cloud computing technologies
Become better prepared to take the CompTIA Cloud Essentials+ certification exam
Build technical literacy to become proficient in adjacent and complementary information technologies and their related certifications
There are no prerequisites to complete this course. However, CompTIA recommends having up to 6 months of working experience in an IT-related environment.
Introduction
Cloud Principles and Design
Cloud Networking and Storage
Assessing Cloud Needs
Engaging Cloud Vendors
Management and Technical Operations
Governance and Risk
Compliance and Security in the Cloud
Instructor
David Grimes
David Grimes has more than 10 years of management and leadership experience in the private and non-profit sectors. Grimes is passionate about technology and education, having worked as academic dean, student services director, technology coordinator, teacher, consultant, and technology columnist. He holds a Master of Education and a Bachelor of Science from Ohio State University, both in Technology Education.