CompTIA Project+
This technology- focused online course is approved by the TechCred Program funding and will help you upskill and earn a credential in only six months.
TechCred Program funding allows Ohio employers looking to fill their open technology-focused roles with skilled candidates. Additionally, the program is designed to enable employers to offer current and future employees the opportunity to learn new skills while on the job by funding their learning.
Become part of a stronger workforce with the skills needed to propel your career.

TechCred | Ohio.gov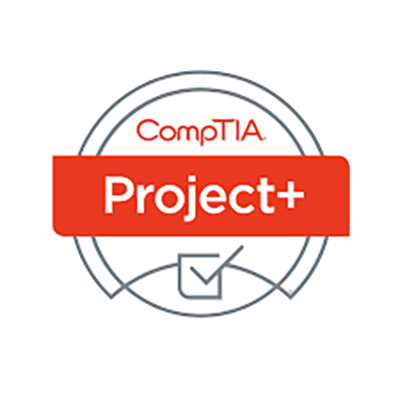 Earn Your CompTIA Project+ Certification
In response to the emergence of highly technical projects, CompTIA created the Project+ certification, a cross-functional project management credential designed for IT professionals who manage small to medium-sized projects. This 100% online course will teach you the concepts and methodologies covered on the Project+ certification exam. Key topics include managing the project life cycle, managing stakeholders, agile methodology and deploying and maintaining documentation. This course is open enrollment. You can enroll and begin any time.
Job Outlook for Project Managers
Data indicates that the demand for skilled project managers will remain strong throughout the 2020's decade. By 2027, employers will need 87.7 million team members with strong project management skills.
According to PayScale.com, CompTIA Project+ certificate holders earn $68,530 per year, on average. CompTIA asserts that experienced managers with Project+ certifications earn an average of $87,416 per year.
WHAT KIND OF JOBS CAN I GET WITH A CompTIA PROJECT+ CERTIFICATION?
The Project+ Certification is designed for managers who work across a variety of functions, managing projects related to IT and other domains as well. The Project+ Certification offers key project management skills that fit within nearly any formal project management framework, including:
Managing the project life cycle
Ensuring appropriate team and organizational communication
Managing resources and stakeholders
Maintaining project documentation
Project-specific job titles that apply to the Project+ Certification might include:
Project Coordinator/Manager
Project Team Member
Business Analyst
Manager, Director, Team Leader
WHAT IS COVERED ON THE CompTIA PROJECT+ CERTIFICATION EXAM?
The CompTIA Project+ Certification exam consists of 95 questions (maximum) that cover the concepts and skills necessary to manage small and medium-sized projects. The exam validates that project managers are able to:
Manage the project life cycle from planning to completion
Ensure appropriate communication within a project team and across an organization
Manage resources, including time, expertise and financial budgets
Manage stakeholders within the project team and across the organization
Deploy and maintain documentation for project progress, compliance and completion
WHAT IS TECHNICAL PROJECT MANAGEMENT?
Jobs that involve managing projects are traditionally among the most challenging and diverse in most organizations. In addition, Forbes reports that the project management discipline will be directly impacted by four of the most dynamic trends in the global economy:
Artificial intelligence, as project planning and documentation become increasingly data-driven
The merger of Emotional Intelligence (EI) with technological innovations such as AI, blockchain, robotics and data science)
Hybrid management models that reflect increases in freelance and independent team members, skills specialists and software and infrastructure projects
The increasing diversity of project team members, locations and cross-cultural challenges
Prepare to take and pass the CompTIA Project+ certification exam
Learn project leadership skills that will improve your decisions on any type of project
Gain project management skills to effectively prioritize work, anticipate consequences of actions, potential problems, opportunities for change, and set and meet realistic deadlines
Utilize the skills required to plan and manage a small-to-medium-size project through to successful completion
Understand how to manage the project life cycle, manage resources and stakeholders, and appropriate communication
Identify the basic aspects of the Agile methodology
There are no prerequisites to take the course. However, CompTIA recommends having up to one year of project management experience before taking the Project+ exam.
PROJECT TEAM BASICS
CREATING THE PROJECT AND WORK
SCHEDULING AND RESOURCES
BUDGETS, RISKS, AND COMMUNICATION
CHANGE REQUESTS, PROJECT TOOLS, AND COMPLETING THE PROJECT
Instructor
David Grimes
David Grimes has more than 10 years of management and leadership experience in the private and non-profit sectors. Grimes is passionate about technology and education, having worked as academic dean, student services director, technology coordinator, teacher, consultant, and technology columnist. He holds a Master of Education and a Bachelor of Science from Ohio State University, both in Technology Education.